One of the most common New Year's resolutions is to exercise regularly. The treadmill is the most popular exercise equipment you can use at home. Here, we look at the best treadmills for home use in 2023.
Why is it popular? The reasons are that it is easy to use and convenient, especially if you are in a rush or if the weather is terrible. Running is also the best form of cardio.
---
What is essential when choosing a treadmill?
Here are a few essential things to remember when choosing a treadmill:
Motor power: The size of the built-in motor determines many essential features of a treadmill. A powerful engine gives the treadmill a higher maximum speed and a smoother ride. A treadmill with a strong motor will also hold up better to wear and tear.
Size: The size of the treadmill is also important to consider. The size of the machine itself will determine whether it will fit inside your home. Depending on your running style, having a large enough running surface, both in width and length, can be crucial.
Display: Technology is advancing rapidly regarding consumer electronics, including treadmills. Today, there are many high-end treadmills with the ability to connect you to various apps. The size of the display is also crucial to many.
Treadmill belt material: An often overlooked detail is the material of the treadmill belts. Most treadmills have built-in cushioning, but some treadmills have taken this to the next level and included additional cushioning that gives more bounce in your strides. This is especially important to consider for those who are injury prone.
Price: An essential detail for most people is the price of a treadmill. After all, we all want the best that money can buy. In this context, it is important to remember that the best options are not always the most expensive. The price/quality ratio is essential when choosing a treadmill.
---
Best treadmills for home use 2023
There is no shortage of options for those looking for treadmills. But if you take our advice above, you're much more likely to find the right one in the jungle. Here we pick out our favourites among the best treadmills for home use in 2023.
Sole Fitness F63 – Best in test treadmill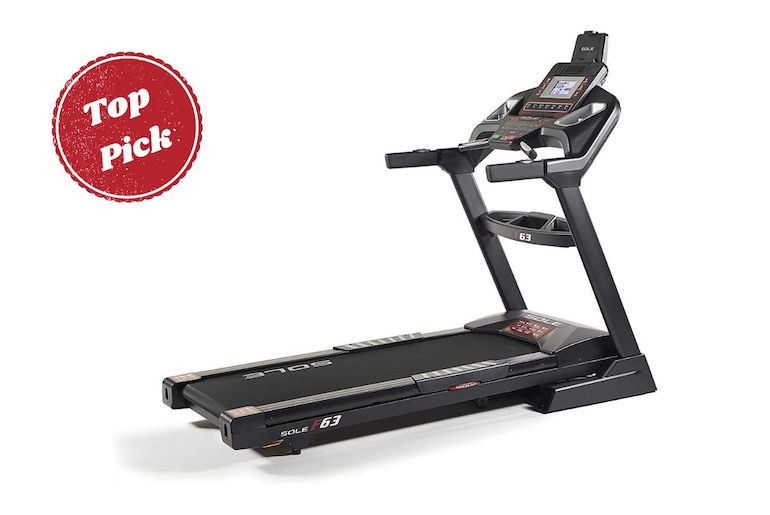 The Sole Fitness F63 has been widely praised as the best treadmill in its price range. There is a lot of evidence to support this claim. The price/quality ratio is excellent on this treadmill. The powerful 3.0 hp motor is impressive, allowing you to run at speeds of up to 20 km/h.
It also has an incline of 15 different levels. Thanks to the powerful motor, you can run for a long time with an incline without the treadmill starting to creak.
Another great advantage of the treadmill is the vast running surface of 152×51 cm. That's more space than you'll find on most other treadmills in this price range and allows for most running styles.
The construction feels solid and durable. This machine is built to hold a user weight of up to 147 kg. The downside to this is, of course, the machine weight. It's pretty heavy at 115 kg. Therefore, you should always protect the floor with a rubber mat.
Another disadvantage of the treadmill is the somewhat undersized display. There is all the information you could require regarding speed, incline, time, calories, pulse and distance. The buttons are also easily accessible. But the screen could be much larger to be able to read the information more easily.
🟢 Strong motor, sturdy construction, spacious running surface

🔴 Small display, narrow transport wheels
NordicTrack T 6.5 S – Best cheap treadmill
One of the best sellers is the NordicTrack T 6.5 S. Above all, this is a good treadmill for beginners, where you will find FlexSelect™ cushioning on the treadmill mat, among other things. It provides extra relief for your legs when you start running more regularly.
The treadmill has a 2.6 CHP motor that provides a speed of up to 16 km/h. It may not be enough for an elite athlete, but it is pretty enough for most exercisers. It also has an innovative SpaceSaver design and EasyLift Assist that allows the treadmill to be easily folded and stored.
Another advantage that attracts many is it is a treadmill with many modern features. For example, you can stream live and on-demand workouts and get help from a personal iFit coach. To take full advantage of this, however, you'll need to use a tablet that you can place on the stand below the display.
When you purchase the treadmill, a 30-day iFIT membership is included.
🟢 Modern treadmill, good cushioning on the treadmill, easy to store

🔴 Speed only up to 16 km/h
Sole Fitness F85 – Best treadmill for advanced runners
If you want a top-class treadmill, the Sole Fitness F85 is the one. This treadmill has a motor power of 4 hp and an impressive 153×56 cm running surface. The maximum speed is 20 km/h.
There is also another essential feature that makes many elite runners choose the Sole Fitness F85. The treadmill is compatible with the Zwift app. It's an app that has revolutionised indoor training for cyclists, but it's also beneficial for runners.
The app allows you to experience running in a virtual environment in places you can only dream of participating in real life. A real motivation booster for your training!
A great way to access the app is to set up a big-screen TV in front of the treadmill. You can also place a tablet in front of the display.This treadmill is also very stable, while the treadmill mat offers good cushioning. In short, one of the best treadmills on the market!
🟢 Powerful motor, Zwift-compatible, stable

🔴 Narrow transport wheels
WalkingPad A1 Pro – Best treadmill for desk
The demand for treadmills for the desk/office has become extremely popular. This is because it is a great way to get your daily workout even while you are working. The WalkingPad A1 Pro has a maximum speed of up to 6 km/h, which is a brisk walking pace for most people.
It is one of the smallest and most popular treadmills on the market. Its innovative design was named the winner of the prestigious Reddot Design Awards 2019.
This foldable treadmill takes up very little space and can be placed anywhere. You can easily take it to work if you wish and pack it back home after you finish your workday. The treadmill also has a custom speed technology that measures the user's foot speed using pressure sensors. It helps the treadmill determine the user's preferred pace.
There is also a remote control that allows you to check your pace and keep track of your results. The treadmill has EVA cushioning and an ultra-quiet brushless motor to keep the noise level below 65 decibels, which is sure to be appreciated by potential colleagues.
🟢 Small and compact, quiet running, easy to handle

🔴 Speed only up to 6 km/h
---
Treadmill FAQs
Which treadmill is best?

When determining which treadmill that is the best on the market, there are a few features to consider. Motor strength is one of the most important things to consider when buying a treadmill. But also other things like display size and the possibility to connect to different apps can be essential for many. In our list, we've picked our favourites for the best treadmill for home use in 2023 based on several different categories and needs.
Which treadmill should I buy?

You should base your choice of treadmill on your own unique needs. Motor power, price and treadmill size are some of the most important features to consider when buying a treadmill.
Where to buy treadmills?

Treadmills are available in many online stores focusing on consumer electronics and sports products. Amazon is the worlds biggest e-commerce site and here you find a large selection of different models. The advantage with Amazon is the many customers who provide their ratings and reviews of the products offered.